DRiV™ to Present Research Findings on Helping Prevent Motion Sickness in Autonomous Vehicles
The latest innovations in active suspension systems not only make vehicles more fun to drive, but can also help address the growing concern of motion sickness in autonomous vehicles. DRiV™, a Tenneco Inc. (NYSE: TEN) business and leading global aftermarket and ride performance supplier, will present research findings on a new technology designed to dramatically enhance vehicle dynamics during the International Advanced Suspension Systems USA Conference, July 30 through August 1, 2019, in Southfield, Michigan.
Miguel Dhaens, DRiV senior engineering manager, will discuss the company's progress in developing tire force vectoring technology for active suspension systems to be used in electric and autonomous vehicles. Tire force vectoring builds on the benefits of an established suspension control strategy, torque vectoring, which uses braking or differential control to improve ride dynamics. DRiV's new approach would allow nearly infinite levels of roll moment distribution from front to rear, providing direct control of vehicle yaw moment in cornering situations. In other words, it actively maximizes the grip of the tires and suppresses oversteer and understeer of the vehicle in all driving conditions in a more intuitive way than existing vehicle stability systems. In addition to improving ride performance and stability, vertical tire force vectoring can help enhance driving comfort and enjoyment.
"Tire force vectoring facilitates integration of the suspension control software as part of an extended motion control architecture," Dhaens said. "The challenge for motion control providers, and thus suspension manufacturers, is to provide precise control and increased comfort in three dimensions – vertical, lateral and longitudinal. The benefits are numerous, not the least in order to counteract for motion sickness, particularly important benefit towards autonomous driving."
Dhaens will present the DRiV team's findings during his presentation on July 30. He also will participate in a panel discussion titled "Control of Active and Semi-Active Suspension Systems." The conference will take place at the Westin Southfield Detroit Hotel. For more details click here: https://www.automotive-iq.com/events-suspension-congress-usa
DRiV's development of tire force vectoring and other technologies supports the growth of its Monroe® Intelligent Suspension portfolio, which includes selective suspension solutions (Dual Mode) and semi-active solutions with external valve (CVSAe), and two independent valves (CVSA2). The portfolio also includes Kinetic® for pitch and roll control. Visit www.monroeintelligentsuspension.com for more information.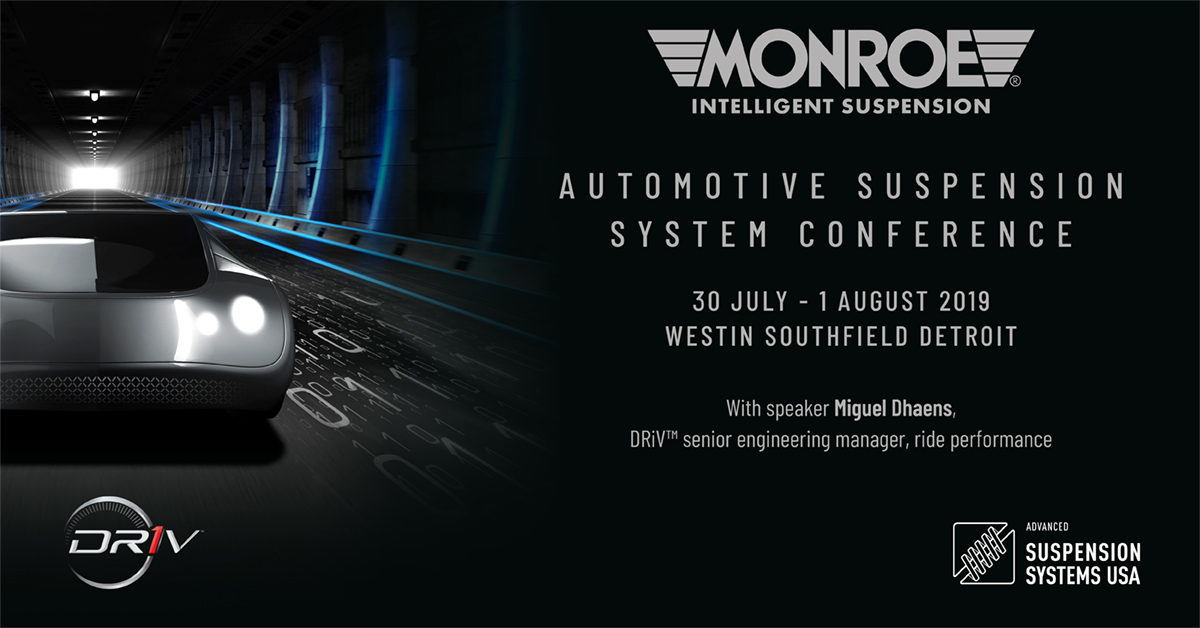 Simonetta Esposito Media Relations Europe, DRiV
Bill Dawson Media Relations North America, DRiV